Welcome to Eagle River Presbyterian Church! We are called to the heart of our community – local, statewide and throughout the world – to serve God by sharing the good news of Jesus Christ and loving our neighbors in his name. At ERPC you'll find a place to connect to God, to others and to the world God loves.
Earthquake Update
Thank you SO MUCH to everyone who came and worshipped with us on Sunday as we worked together to clean up from the earthquake damage and to all of you who have been here this week continuing the work. We have had a structural engineer inspect the building and he assured us that it is safe for occupancy. The fire inspector was here on Sunday and our fire suppression system was not damaged. We filed a claim with our property insurance and Presbyterian Disaster Assistance reached out to us through the Presbytery, offering help and hope.
We have much work to do and the building will be visibly 'under construction' for some time to come, but we are grateful to God for his protection and care for each of us during last week's quake. I find comfort in these words from Psalm 46: God is our refuge and strength, an ever-present help in trouble. Therefore we will not fear, though the earth give way and the mountains fall into the heart of the sea, though its waters roar and foam and the mountains quake with their surging.
Please join us on Sunday for Advent worship and let us celebrate God's goodness and blessings as we praise Him together and look for the coming of His Son!

Here is a look at the Organ concert on May 17, 2018
"I Am Resolved" by Palmer Hartsough, & "There Shall Be Showers of Blessings" by D.W. Whittle
Arranged by Mike Wright
A look at the Organ concert"I Am Resolved" by Palmer Hartsough, & "There Shall Be Showers of Blessings" by D.W. WhittleArranged by Mike Wright

Posted by Eagle River Presbyterian Church on Thursday, May 17, 2018
2017 Harvest
All harvested vegetables were donated to the Chugiak-Eagle River Food Pantry.
Lettuce                    5.51 lbs
Pea Pods                61.40 lbs
Green Beans          1.50 lbs
Potatoes              114.98 lbs
Carrots                124.04 lbs
Total                      307.43 lbs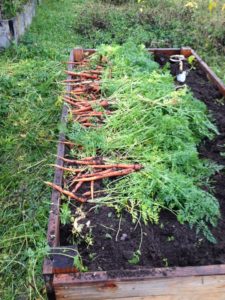 Thank you to everyone who donated their time and green thumbs to help with this amazing mission.